In the Storm
Posted on May 18th, 2020
by
blogpost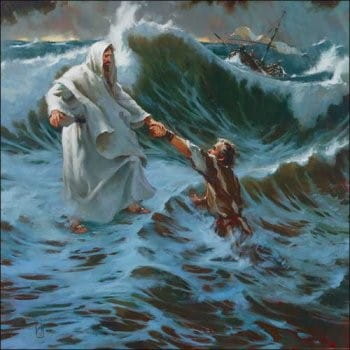 Today's blog comes from one of our missionary partners. Thanks friend!
Even challenging seasons can bring great opportunity. One reason for keeping our eyes on Jesus in the storm is that when we look at Him, we see what is possible with God. When Peter looked at Jesus, he saw Jesus doing the impossible and understood that He is powerful enough to enable us to do the impossible too. When Peter looked at the waves, fear overcame him and he began to sink. He called out and Jesus saved him. In this pandemic, let us keep our eyes fixed on Jesus, and if we get distracted and become overcome with fear, let the first thing we do be to call on Jesus name, for him to deliver us from fear.
Believers down the centuries have sung the Lord's song in all sorts of terrible and testing seasons, and our calling in this season is the same. God's worthiness to be praised is not dependent on whatever circumstances we happen to find ourselves in. He is worthy because He is God, and He is good, and He is Love. The gift of His one and only Son – who died in our place so that we might live – is more valuable than anything imaginable. We cannot possibly pay God back. He is utterly worthy of ALL praise in ALL circumstances. I think of Paul and Silas in the Philippian jail. They could have complained to God, they could have been overwhelmed with fear and even with self-pity, but instead they lifted their eyes to God and sang to Him. The sweetest worship to God is the worship that is not easy to give, but is a sacrifice; worship offered in spite of circumstances, not because of them. They saw their circumstances – imprisonment – as an opportunity to worship God.
It is no different for us. But here's what I'm not saying: I'm not saying that as Christians we have to deny our circumstances and emotions, 'get over it' and sing a happy song to God. No. God knows and cares about the cares of our hearts, if we deny our cares, if we pretend we have no fears or sadness, then we cannot then cast our cares upon Him. We cannot give our worries to God without first being honest and acknowledging them. It is important to acknowledge our sorrows and anxieties, to be real and to express them to God (as David does in so many a psalm), and then to give them to Him, and leave them in his hands. If we do not give our sorrows to God, then we become vulnerable to falling into temptation, just like the disciples did in the garden of Gethsemane: Instead of bringing their sorrow and anguish of soul to God in prayer like Jesus did, the disciples slept, and moments later they abandon Jesus and Peter denies Him, even calling down curses from heaven down on himself. I would personally like to change the lyrics of that famous hymn from "It is well with my soul" to "My soul is in anguish, I'm overwhelmed with sorrow, yet I will cast my cares upon you, I'll receive your peace that transcends understanding. I will cast my cares upon you, and receive your joy everlasting. Though the storm rolls on, I will put my trust and hope in you. I know that some seas you will calm, and some seas you will ride with me. I have peace because I know you are with me in the storm. Fear cannot remain when I'm in your perfect love. Anxiety trembles at your presence, and fear bolts for the door. Jesus is King, so I have nothing to fear. He holds me in His hands, and He will never let me go."
In this pandemic, the Western church is experiencing what many believers already experience as normal. Church buildings are closed, we're not allowed to meet together to worship, yet the Holy Spirit is not in lockdown, we can still meet with God in our homes, and virtually with each other, which is a blessing – and God is still at work! We don't have our backs against the wall, this is not the time to hide our light under a bucket, but to let it shine!
"How can we sing the Lord's song in a strange land?"
It turns out, it's not that different from singing the Lord's song in a familiar land! Yes we have and are adapting to living in a new culture and language, yet the core is the same: "In your hearts revere Christ as Lord. Always be prepared to give an answer to everyone who asks you to give the reason for the hope that you have. But do this with gentleness and respect." (1 Peter 3:15)
Do we have hope to share at the time? Yes we do. We need not fear death because we are assured that we have everlasting life in Jesus. We know the Healer who has authority over every disease and sickness (and gives us this authority too!). We know the Prince of Peace who gives a peace that is "not of this world", that transcends understanding. We know the one who continually casts out all fear with His perfect, complete and unwavering love for us. We know the Way, the Truth, the Life. His Spirit works his fruit of love, joy, peace, patience, kindness, goodness, faithfulness, gentleness and self-control in our lives (Galatians 5:22). God does not give us a Spirit of fear or timidity but a Spirit of power, of love and of self-control (2 Timothy 1:7). Yes, we have hope in Christ. It is a hope that is not based on ourselves but on the goodness and faithfulness of God: "Let us hold unswervingly to the hope we profess, we he who promised is faithful" (Hebrews 10:23).
This is no longer a "strange land" for us, although we are learning new things about the culture almost every day! Thank God we felt at home rather quickly! In all likelihood, we will feel that the UK is a "strange land" when we return in a couple of years time! We can certainly still serve God when living in a "strange land" or living through "strange times" such as these. The reason for this is that our God is not confined to a temple, we do not have to go to a special building in order to worship God, the curtain of the temple has been torn in two, and the Spirit of God now lives inside each and every believer. We are His temple! You cannot close the church, we are the church! You cannot kill the church, for the head of the Church is Christ and He cannot be defeated. They say it is hard to kill a movement because you cannot kill an idea, but it is even harder (impossible in fact) to kill the Spirit of God. And as long as the Spirit of God lives, His Church will live. What many regimes down the ages have not understood is that Christianity is not birthed or sustained by human ideas and efforts, but by the powerful Spirit of God.
Home is where God's presence is. His presence lives in us by His Holy Spirit. Therefore wherever we go, we can say we are 'at home', for He is with us! If we depended on our British culture as the bedrock of our identities, then moving to and adapting to another country and culture would threaten our identity. But our identity is in Christ, and Christ transcends cultures. He is at home in whichever culture He finds himself in, and so we can feel at home in Him too. The Bible does not have to be read in only Hebrew and Greek, and nor is the Good News it contains designed for or restricted to only one culture. Jesus came to have ALL people. Of ALL backgrounds. Working with Him to see the unreached reached is our joy.
God Bless, stay well
Martin